Free Darko closes
Through two books, hundreds of posts, a unwavering belief in what makes basketball beautiful and an undying devotion to the 2006-07 Warriors, Free Darko dissected the finer points of the game through complication and loftiness.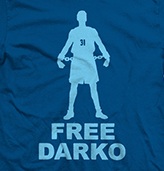 Yesterday, they closed the doors.
It's a sad day for basketball blogs, yes. But there's also freedom. As the partners continue doing what they do, we'll look at Free Darko as a starting point. Chitwood & Hobbs puts it best:
When I think of the end of FreeDarko I find parallels with the punk band Operation Ivy.

…

Operation Ivy was a punk-ska band that existed between 1987 and 1989. In those two years Op Ivy performed 185 shows and recorded 32 songs. They went on a national tour, began booking larger venues, and felt pressure to sign with a major label — instead they broke up. They flamed out.

…

The good news is that the idea of Op Ivy didn't die with the band. They were arguably even more successful after they broke up. Their only studio album, Energy, has sold more than 500,000 copies and the iconic band has been credited with the 1990's punk revival in California. They are a worldwide cult success. Tim Armstrong parlayed Op Ivy's success with Rancid, the Hellcat Records label, and a lucrative song writing profession for artists such as Pink and Gwen Stefani.
The posts. The art. The random references I never understood. At least I'll always have the books.